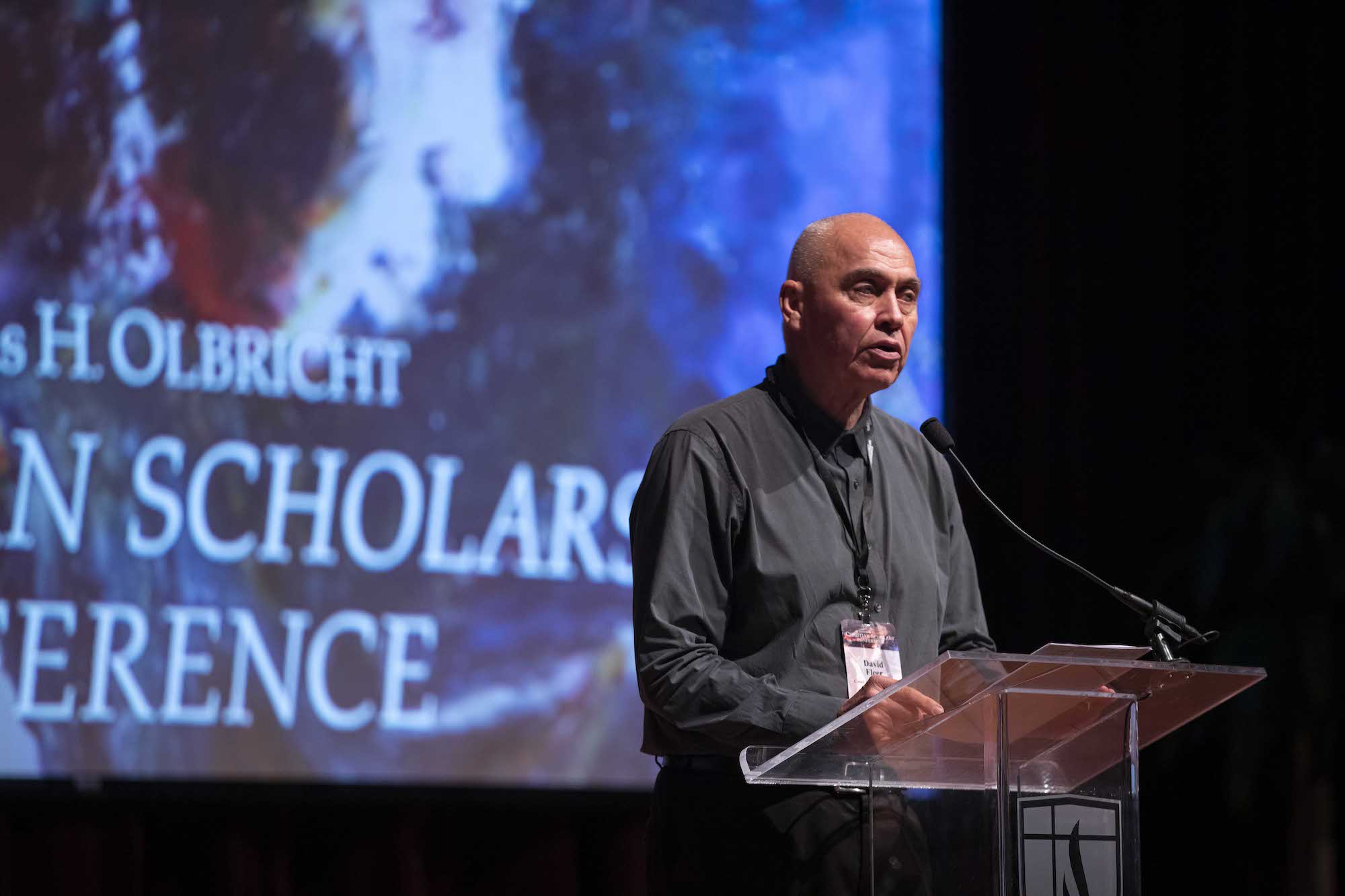 2021 in Review
---

Recovery of Hope
Christian Scholars' Conference convenes more than 400 scholars examining 'Recovery of Hope'
Some of the nation's top thought-leaders focusing on the theme "Recovery of Hope" were among more than 400 scholars and faith leaders representing nearly 100 universities from around the country who were part of the 41st annual Thomas H. Olbricht Christian Scholars' Conference that took place at Lipscomb University June 9-11.
The conference calls together scholars from a wide variety of disciplines in the liberal arts, sciences and professional schools to develop their own academic research and to reflect on the integration of scholarship and faith. Participants and presenters come from the nation's top universities including Yale, Notre Dame, Cornell, Duke and Harvard.
"After a long season of absence, distance and loss we are just now surfacing to re-engage in meaningful scholarship with a welcoming community. We indeed are a "family of scholars." But, frankly, we had no idea when we set the topic a few years back how foreboding the times would become and how timely and important it would be, at this very moment, to set our work and faith on the recovery of hope," said David Fleer, director of the Center for Christianity and Scholarship and the Christian Scholars' Conference.
This year's plenary sessions and speakers included:
Fred D. Gray Plenary in Human and Civil Rights featuring Ibram X. Kendi, one of America's foremost historians and leading antiracist scholars. Kendi, author of How To Be an Antiracist, is the founding director of Boston University's Center on Antiracist Research, Kendi won the National Book Award for his nonfiction work Stamped from the Beginning: the Definitive History of Racist Ideas in America. At age 34, he was the youngest National Book Award winner ever. In a webinar conversation with Fleer and leading scholars, Tanya Smith Brice and Catherine Meeks, Kendi engaged questions from the conferees.
The Abraham Malherbe Plenary centered on the question: "Biblical Studies: Asset or Liability for People of Faith?" The session featured four speakers — Carl Holladay and Amanda Pittman speaking for the values of biblical scholarship and Richard Hughes and Raymond Carr speaking on its liabilities — engaged in a modified debate format that was moderated by Greg Sterling, Yale Divinity School. 
The John T. Willis Plenary featured three of the nation's premier American Religious History scholars: Randall Balmer from Dartmouth College, John Fea from Messiah College and Molly Worthen of the University of North Carolina. The panel explored white evangelical alignment with political forces of our time.
The Frank and Della Pack Plenary examined the Covid-19 disruption of every aspect of life and the lost hope that resulted. This session featured three physicians sharing their thoughts on the reemergence of hope after the pandemic and lessons learned. Featured speakers included Lisa Piercey, Tennessee Commissioner of Health and Lipscomb Board of Trustee member; Kevin Fickenscher, President of CREO Strategic Solutions; and Suzanne Olbricht, Beth Israel Deaconess Medical Center and Harvard Medical School.
Robert E. and Bonnie Cone Hooper Plenary continued a 13-year partnership by offering a presentation of Tokens Show, the longstanding show hosted by Lipscomb's own professor of theology and ethics Lee Camp. 
Steven McKenzie, Rhodes College professor, presented the J.J.M. Roberts Lecture in Old Testament Studies. He has appeared on the Discovery and History channels and in radio interviews as a consultant on King David and on reading and interpreting the Bible. 
Miroslav Volf, professor at the Yale Center for Faith and Culture and author of Exclusion and Embrace which was included on Christianity Today's 100 most influential religious books of the twentieth century, presented the Landon Saunders Lecture entitled "Meaning and Dimensions of Flourishing."
Conference attendees also participated in nearly 75 peer-reviewed paper, panel and performance sessions that convened academics to advance scholarship, develop collaboration and engage dialogue. Sessions covered a wide range of topics including American religion; business and economics; Christianity, literature and language; civil rights; faith and learning; health sciences; mission and world Christianity; practical theology; theology and philosophy; congregational science; creative writing; patristics; teaching, learning and technology; and Old Testament studies among others.  
Highlights of the 2021 conference included a tribute to the late Thomas H. Olbricht. Olbricht, the founder of the Christian Scholars' Conference, who shaped generations of scholars, ministers, and church leaders for more than 90 years, died in August 2020. 
"Tom Olbricht significantly contributed to theological education in Churches of Christ and to the broader world of scholarship in rhetorical studies, church history and congregational life," said Fleer. "We are better for his life and work and are emboldened and sustained by the life and work of our mentor and friend. It was a wonderful opportunity to celebrate his significant contribution to the academy and his impact on the lives of untold generations of scholars during this year's conference."
At the opening night dinner for the conference, the Christian Scholars' Conference honored Lipscomb University President Randy Lowry, who is transitioning to the role of chancellor after 16 years as president of Lipscomb, and his wife, Rhonda, who serves on the board for the Christian Scholars' Conference, for their service to the institution and the CSC. Multi-platinum artist Michael W. Smith was the featured entertainment for the dinner. 
"We are all beneficiaries of the Lowrys' gifts. They have a tremendous breadth of impact and influence on so many," said David Fleer. "The CSC has thrived beyond what many of us could have imagined thanks to their vision and unflagging support."
The Conference annually pays tribute to scholars who have had national impact in their discipline. This year the CSC paid tribute to Gailyn Van Rheenen, a leading scholar in missiology who mentored a generation of leading missiologists. A man who has bridged the gap between theory and practice. 
The Christian Scholars' Conference was created in 1981 under the direction of Olbricht, distinguished professor emeritus at Pepperdine University, and is now hosted by Lipscomb University. The mission of the Christian Scholars' Conference is to create and nurture an intellectual and Christian community that joins individuals and institutions to stimulate networks of scholarly dialogue and collaboration.
For more information about the 2021 conference, visit christianscholarsconference.org.